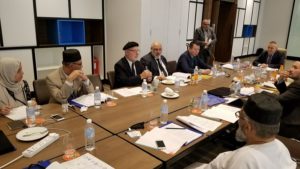 Mid-year Executive Meeting of WHC, the Umbrella Organization of Reliable Halal Certifiers Worldwide, was conducted in Kuala Lumpur, Malaysia on 4 April.
Every year, generally the first week of April, the Executive Committee of WHC convenes to discuss the progress of works assigned to executives. This year 9 executives came together. Some of the WHC members who were visiting KL for the occasion JAKIM Events and Exhibition MIHAS also attended the meeting.
During the meeting, status of new applicants, review of some charter articles, training issues and financial situation of WHC were on the table.
One of the important decisions taken was the selection of Istanbul as the place for the 16th Annual General Meeting (AGM) of WHC. As per the resolution, AGM that will be hosted by GIMDES will take place in Istanbul, late this year.
WHC will also organize an International Conference concurrently with the AGM. WHC will invite HCBs from all over the world and also eminent scholars and Ulama from both academic circles as well as some government bodies. The topics of the Conference are not announced yet and executives will decide these shortly.
The Mid-Year Executive Committee meeting also welcomed some non-member HCBs as well as former members during the meeting. It was strongly announced once again that differences between thoughts are only reasons to unite, not separation.