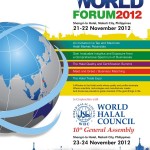 World Halal Forum 2012 soon.
10th General Assembly Meeting of the World Halal Council (WHC) will be held on 23 & 24 November 2012 Shangri-la hotel in Makati City, Manila-Philippines.
The Islamic Da'wah Council of the Philippines, Inc. (IDCP) is hosting this event, and, in addition, a 2-day Halal World Forum (HWF) 2012 for Halal manufacturers, suppliers, dealers, academe and consumers is also being organized on 21 & 22 November 2012 in order to have a harmonious meeting and dialogue between the producers, consumers and certifiers around the world.
Various speakers will make their presentations such as;
National Anthem: Sis. Noraisa (Naty) C. Cause
Social Welfare Speaialist
DSWD Central Office

Opening Remarks: Atty. Abdul Rahman R. T. Linzag
President. /CEO-IDCP
Past Secretary General, World Halal Council
Past President – IBP Manial Chapter II
Welcome Address: Hon. Mejol Sadain
Secretary
National Comission on Muslim Filipinos (NCMF)
Keynote Address: Hon. Domingo Enerio III
Chief Operating Officer, Tourism Promotions Board
Department of Tourism
Short Talk: Mr. Dinar Sadykov
Director General, ICRIC-Russia
Inspirational Talk: Dr. Huseyin Kami BUYUKOZER
Patron-World Halal Council
President, GIMDES, Istanbul, Turkey
SIGNIFICANCE OF SCIENCE AND TECHNOLOGY FOR HALAL
STANDARDIZATION AND CERTIFICATION INFRASTRUCTURE OF
FOOD AND NON-FOOD: THAILAND'S UPDATE"
By: Dr. Winai Dahlan
Founding Director, The Halal Science Center
Chulalongkorn University
Bangkok, Thailand
WHY HALAL? (SIGNIFICANCE OF HALAL)
By: Br. Hussein Yee Abdullah
Kuala Lumpur, Malaysia
THE DOLE'S COMMITMENT AND PARTICIPATION IN THE HALAL INDUSTRY
By: Mr. Simon Denye
VP & Managing Director
DOLE PHILIPPINES
HALAL ASSURANCE POLICY AND COMPANY IMPLEMENTATION
FOR QUALITY PRODUCTS
By: Mr. Othman MD. Yusoff
Chairman, Halal Committee
Nestle Manufacturing
Selangor, Malaysia
THE ROLE OF WORLD HALAL COUNCIL IN HALAL CERTIFICATION
By:Sheikh Thafier Najjar
President
World Halal Council (WHC)
South Africa
RELEVANCE OF HALAL CERTIFICATION TO GOVERNMENT
REGULATIONS ON FOOD AND DRUGS
By: Dr. Kenneth Hartigan-Go
Director
Food and Drug Administration (FDA)
Alabang, Muntinlupa City
HOW HALAL CERTIFICTION BECAME RELEVANT IN AMERICA'S
FOOD PRODUCTION
By: Dr. Mohammad Mazhar Hussaini, MS, LD.
President, American Halal Foundation, USA
HALAL COMPLIANCE IN NON-FOOD PRODUCTS
By: Br. Dimyati Yusuf
Director, Quality and Compliance
For Indonesia and Philippines
Johnsons & Johnsons, Malaysia
MUI'S INVOLVEMENT IN HALAL CONCERNS
By: Dr. Muhammad Nadratuzzaman Hossen
MUI – Indonesia
TURKEY: GATEWAY TO EUROPE
By: Dr. Huseyin Kami Buyukozer
Patron WHC
President, GIMDES , Istanbul, Turkey
HALAL RESTAURANT AND HALAL KITCHEN REQUIREMENTS
By: Abdullah Fahim Hj,. Ab. Rahman
Chairman/Halal Consultant
Islamic Food Research Centre (IFRC) ASIA
Kuala Lumpur, Malaysia
THE RELEVANCE OF HALAL CERTIFICATION AND PRODUCTION
TO THE MARKET POTENTIALS IN SOUTH AFRICA"
By: Bro. Moulana M. Saeed Navlakhi
Theological Director
South African National Halaal Authority (SANHA)
Johannesburg, Gauteng, South Africa
HALAL CERTIFICATION PROCEDURE AND REQUIREMENTS IN SINGAPORE
By: Sis. Dewi Hartaty Suratty
Head, Halal Certification
Majelis Ugama Islam Singapura
HALAL DEVELOPMENT AND MARKET OPPORTUNITIES IN RUSSIA
By: Bro. Dinar Sadykov
Director General,
Islamic Chamber Research and Information Center
Kazan City, Russia
HALAL SLAUGHTERING REQUIREMENTS IN AUSTRALIA
(HALAL GELATINE AND ANIMAL CLONING)
By: Dr. Mohammad Anas
Manager Islamic Affairs and Halal Services
Muslims Australia – AFIC, Sydney, Australia